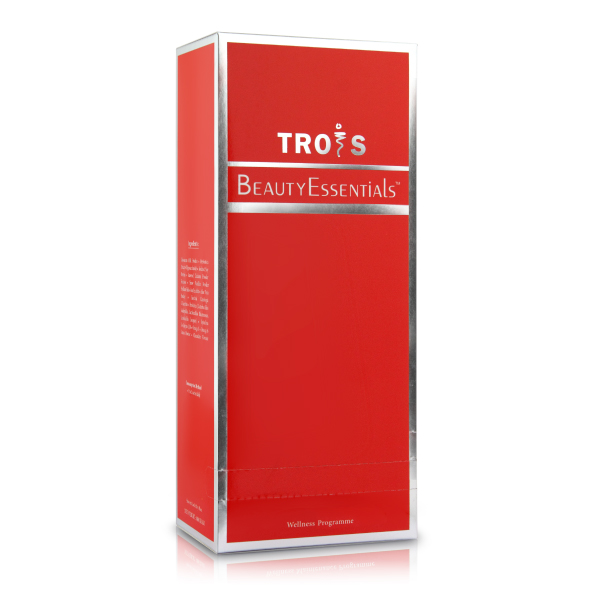 PACKAGE CONTAINS:
x1 BOXES BEAUTYESSENTIALS (24 SACHETS X 20G)


Turn Back the Clock with a Revolutionary Supplement for Timeless Body; Ageless Skin.
BeautyEssentials™ is a scientifically advance oral nutrition supplement formulated in the USA. It contains over 85 specifically formulated, all natural nutrients that enhances the body's essentials process :
¤ Detoxification ¤ Regulation ¤ Nourishment
It repairs, rejuvenate and regenerate the basal cells, improve cells metabolism to achieve the real anti-aging, and thus improving and reducing a variety of health and skin problems.
The BeautyEssentials™, a nutrition-therapy solutions is not only supported in theory but most importantly proven by results, to help keep your body composition in check and reduce the visible signs of aging.
HEALTH BENEFITS
✔ Aids digestion
✔ Colon cleansing and ease constipation
✔ Restore colon and intestinal flora
✔ Relieve sore throat and gastritis
✔ Mineralization of bone
✔ Prevent osteoporosis
✔ Relieve Arthritis
✔ Tissue repair and healing of gums
✔ Improve blood oxygen level
✔ Promotes healthy heart and blood circulation
✔ Alleviate Hormonal Imbalance
✔ Manage body composition
✔ Mediate nerve and muscle function
✔ Maintain healthy eyes, hair and skin
✔ Reduce Frequency of Migraine
✔ Boost immune system
BEAUTY BENEFITS
✔ Strengthening of collagen and elastin network
✔ Firming and reduce wrinkles
✔ Reduce skin pigmentation
✔ Improve skin texture
✔ Skin brightening
SUITABLE FOR
✔ Elderly
✔ Adults
✔ Teenager
✔ Children
✔ Pregnant Ladies
PRODUCT SAFETY
✔ Researched and Formulation designed by experts
✔ Results orientated supports by more than 10 thousands testimonials
✔ Safe, natural high grade active ingredients and food Extraction
✔ Manufactured in a GMP, cGMP, HACCP Certified Facility
✔ Clinically Proven Ingredients
✔ Sodium-Free
✔ Non GMO
✔ Certified HALAL by JAKIM
HOW TO CONSUME?
2 sachet a day, consume 15 minutes before breakfast and dinner. Mix a sachet of BeautyEssentials™ with 250ml of cold water. Stir and consume immediately.
PRODUCT INGREDIENTS
Colostrum Milk Powder • Prebiotics (Fructo-Oligosaccharide) • Isolated Soy Protein • Seaweed Calcium Powder • Fructose • Snow Vanillin Powder • Psyllium Husk • Soy Lecithin • Aloe Vera Powder • Probiotics (Lactobacillus Acidophilus, Lactobacillus Rhamnosus, Lactobacillus Longum) • Spirulina • Omega 3 • Omega 6 • Cocoa Powder • Chocolate Flavour
#detox #rebalance #rejuvenate #liver #intestine #colon #kidney #lymphdrainage #lymphaticsystem #immune #feedandfast #flexiblediet #health #beauty #fitness #dance #movement #nutrients #energy #booster #body #slim #organ #reborn #burnfat #builtmuscle
BeautyEssentials 1 Box