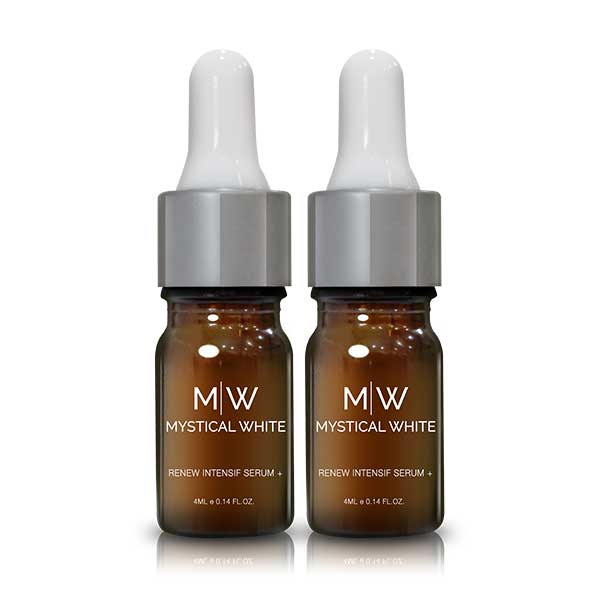 Mystical White Renew Intensif Serum+ is functional skin renew and whitening product. It uses high grade ingredients derived from natural botanical extracts and essential nutrients that helps your skin in 2 ways :
✔ LIGHTENING & BRIGHTENING
✔ RENEW & RESTRUCTURING
.
.
BENEFITS OF RENEW INTENSIF SERUM+
✔ Skin whitening, remove spots, solve pigmentation problem.
✔ Remove blackheads and acne.
✔ Helps renew and restructure epidermis skin layer.
✔ Deep clean dirty pores, shrink pores, sebum control.
❤❤ RENEW INTENSIF SERUM+ Night Use | All Skin Type ❤❤
Description : Packed with strong functional ingredients, this high performance skin treatment boosts skin renewal for a smoother, radiant and toned skin. It controls melanin production and diminishes age spots thus giving your skin a fairer and flawless complexion.
❤❤ Ingredients work synergistically to penetrate basal skin layer. ❤❤
.
.
4 ACTIVE INGREDIENTS
Kojic Acid, Spiraea Ulmaria (Meadowsweet) Extract, Mel (Honey) Extract, Citrus Grandis (Grapefruit) Peel Extract.
❤❤ Promotes new cell regeneration and rebuilt skin structure to a smoother, brighter and glowing skin. ❤❤
.
.
PACKING SIZE
RENEW INTENSIF SERUM+ 4ml x 2 bottles
.
.
MOH APPROVED
NOT181004948K - RENEW INTENSIF SERUM+
#trois #mysticalwhite #serum #skincare #whitening #blackhead #whitehead #brightening #skinrenew #skinceutical
MW Renew Intensif Serum+ Twin Pack