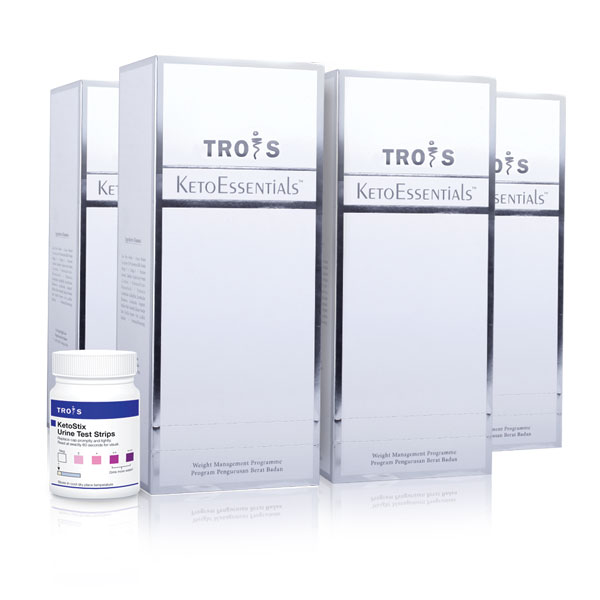 PACKAGE CONTAINS:
x4 BOXES KETOESSENTIALS (24 SACHETS X 25G)


Looking for a REAL slimming program that works? TROIS KetoEssentials® Program is probably the last weight management program you ever need! The TROIS KetoEssentials® Program has shown to reduce fat where it matter most within the shortest time period without the negative side effect as experienced by most ""Keto dieters" in the market. It has been voted as "Trusted Brand"by consumers since 2005 backed by a real Result based Moneyback Guarantee Assurance. NOW, you really have nothing to LOSE except FATS!
.
.
GENERAL BENEFITS
✔ Lose up to 8 kgs in just 1 month
✔ Eat more than 3 meals a day
✔ Burns excess fat at areas where it matters most
✔ Get rid of visceral fat effectively (fat that tends to lodge around the organs)
✔ Improve lean body mass to fat mass ratio (Body Firming & Toning)
✔ Helps improve overall health and prevent nutritional insufficiency
✔ Reduce body weight without negative side-effects.
✔ Effective on most people who are over-weight or obesity
.
.
HEALTH BENEFITS
✔ Enhance physical energy
✔ Improve mental performance and alertness
✔ Improve lipid profile (cholesterol and triglycerides level)
✔ Regulate blood pressure
✔ Regulate blood glucose level
✔ Improve heart and liver health
✔ Improve blood delivery system
✔ Boosting body's immunity system
BEAUTY BENEFITS
✔ Improve skin elasticity
✔ No wrinkle or sagging skin problem
✔ Improve skin tone ; radiant glowing skin
✔ Regain your V-shape face
✔ Reduce pimples and acne problems
✔ Increase skin elasticity
✔ Enhance skin moisture and suppleness
✔ Lighten skin pigmentation/age-spots
.
.
RECOMMENDED FOR
✔ Suitable for all genders
✔ Age 15 and above
.
.
PRODUCT SAFETY
✔ Researched and Formulated by Research Scientist
✔ Result proven by over 10 thousand testimonials
✔ Safe ; Natural high grade active ingredients from food source
✔ Manufactured under cGMP, HACCP & Halal Certified Facility
✔ Clinically Proven Ingredients
✔ Certified HALAL by JAKIM
.
.
PRODUCT INGREDIENTS
Colostrum Milk • Prebiotics (Fructo-Oligosaccharide) • Isolated Soy Protein • Seaweed Calcium • Fructose • Snow Vanillin Powder • Psyllium Husk • Soy Lecithin • Aloe Vera Extract • Probiotics (Lactobacillus Acidophilus, Lactobacillus Rhamnosus, Lactobacillus Longum) • Spirulina • Omega 3 • Omega 6 • Cocoa
.
.
MONEYBACK GUARANTEED (Activation Required)
The "TROIS KETOESSENTIALS® MONEYBACK GUARANTEED" (MBG) offer is a "See Results* in just 8 days" offer made available by TROIS International Sdn. Bhd. to its' Qualified Customer who are committed to the TROIS KetoEssentials® Weight Management Program but are doubtful of its results.
DISCLAIMER :
Results varies among individual customers from various Body Composition Analysis Reading.
Check out our REAL PEOPLE; REAL PROBLEM; REAL RESULT testimonials @ www.nemo.international
#slim #slimming #slimfit #fit #diet #keto #weightloss #burnfat #bakarlemak #trois #ketoessentials #kurus #detox #nemo #moneyback #guaranteed #health #beauty #fitness #proven #losefat #builtmuscle
le
KetoEssentials Combo