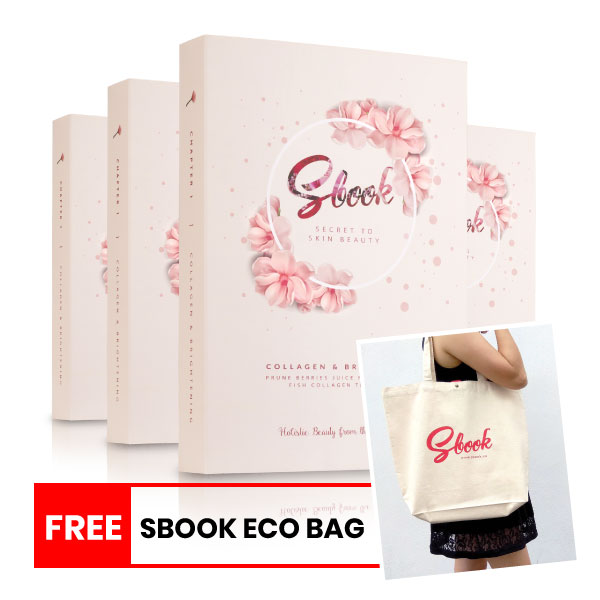 PACKAGE CONTAINS:
x4 BOXES SBOOK VALUE PACK (30 SACHETS X 10ML)
FREE : SBOOK ECO BAG (WHILE STOCK LAST)
SBOOK Collagen & Brightening Drink is formulated with latest Collagen TRI-Peptide specially designed to restore youthful, resilience and radiant skin in just 6 days!
The drink actively boosts collagen synthesis, prevent and repair damaged collagen fibers from free-radical with internal UV sunscreen activation to minimize the signs of ageing such as fine lines, wrinkles and dryness.
.
.
KEY INGREDIENTS
-------------------------------
✔ MARINE DEEP FISH COLLAGEN TRIPEPTIDE
Latest technology in producing the smallest particle size among all other collagen types for effective absorption (in just 5 mins) in providing better healing, repair, and nourishment to slow down skin ageing process.
✔ GLISODIN®
A patented, clinically-studied dietary supplement ingredient that promotes the body's internal UV sunscreen protective system that helps brightens the skin.
✔ SUPER BERRIES
Packed with antioxidants, phytochemical, flavonoid, carotenoids, vitamins, and minerals that neutralise free radicals, strengthen skin immunity, and anti-inflammatory defenses.
✔ 8 CORE ENZYMES
Activate the nutrients throughout the process from digestion-absorption-delivery-utilization to enhance bioavailability and bioefficiency.
✔ MORINGA
A natural antioxidant, anti-inflammatory, immune-boosters to help promote cellular growth and prevent destruction of skin tissues.
.
.
RECOMMENDED FOR
✔ Suitable for all genders
✔ Age 15 and above
.
.
PRODUCT SAFETY
✔ Researched and Formulation designed by experts
✔ Safe, natural high grade active ingredients from food Extraction
✔ Manufactured in a GMP Certified Facility
✔ Clinically Proven Ingredients
✔ Sugar-Free
✔ Certified HALAL by JAKIM
.
.
PACKING SIZE
30 sachets x 10ml
.
.
HOW TO CONSUME?
Take 1 sachet daily at any time. When consuming, take the gel direct from the sachet and let the gel sit under your tongue or swirl it around your tongue and inside your mouth for 5 – 10 seconds before swallowing.
.
.
PRODUCT INGREDIENTS
Fish Collagen TRI-PEPTIDE, Prune Extract, Berries Extract Concentrate (Acai Berry, Blueberry, Elderberry, Blackberry,Raspberry, Strawberry, Passion Fruit),
8 Enzyme (Invertase, Lactase, Lipase, Papain, Pectinase, Phytase, Protease, Xylanase), Moringa Powder, GliSODin, Lemon Concentrate, Blackcurrant Concentrate.
#collagen #bright #firm #glow #radiant #skin #uv #sunscreen #best #trois #sbook #ha #moisture #hyaluronicacid #fastabsorption #anti-aging #antioxidant
SBOOK Collagen & Brightening Value Pack Combo (120 sachets)